INTERMEDIA: An Illustrated Chronology
1967
Contemporary Arts Festival, University of British Columbia

CBC Television Series, The Enterprise, featured half hour productions by artists, many of who worked at
the Motion Studios including The Helen Goodwin Dancers and the Al Neil Trio.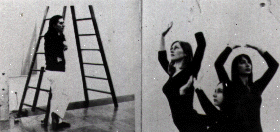 Helen Goodwin (left);
(right) THECO Dancers: ( Clockwise) Joan Payne, Evelyn Roth, Rita Watson
Intermedia Society leased a four storey building at 575 Beatty St. There were studios for film editing and
sound recording, bill bissett's blewointment press, the Al Neil Trio's rehersal space, and open spaces on the
first and second floors for performances.

The Al Neil Trio in rehersal in their
studio at Intermedia's Beatty St. location
April 15: article in Vancouver Sun, Grant Sought.
Exhibition: Joy and Celebration, U.B.C. Fine Arts Gallery prsented several artists associated with both the
Sound Gallery/Motion Studios and Intermedia including Gary Lee Nova, Dallas Selman, Michael Morris,
Audrey Doray, Roy Kiyooka, Ian Wallace and Darcy Henderson.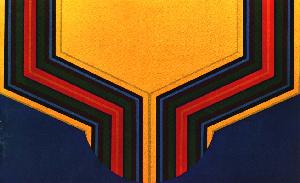 Michael Morris: Cover of Catalogue for Joy and Celebration

.
May: article in The Vancouver Sun, Understanding Intermedia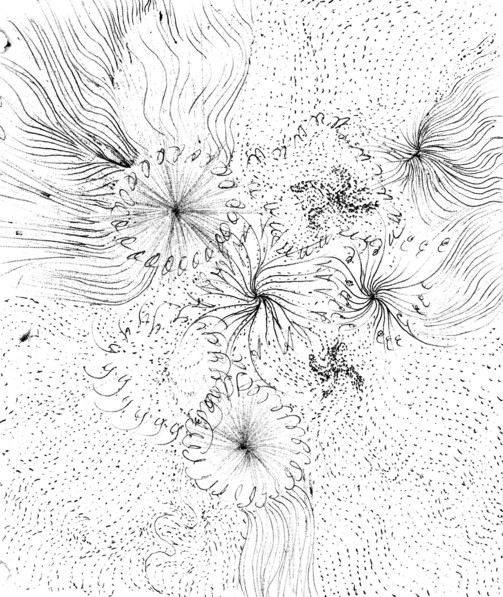 Vowels
Visual poem by Judith Copithorne, 1967


July 21: article in The Province on American artist, Robert Rauschenberg mentions Intermedia finding a space.
Article in Vancouver Sun, Sam Perry's Last Trip.
---