D'Arcy Henderson, Frans Wynans Gallery, Vancouver September 1 to 19
In his most recent exhibition, Vancouver artist D'Arcy Henderson has incorporated his past concerns with the tactile nature of materials with an aspect of contemporary realism. The present series consists of approximalely twenty air-brushed acrylic figures, individually isolated on sheets of sterile white card. Henderson's meticulous technique is almost photorealist, except that his colour sense and references to sites maintain the origins of his style.
The titles are both descriptive and metaphoric. In Confetti Star, for example, Henderson depicts a young bearded man in silver mirrored sunglasses, polarized stars reflected in the lenses. This title also refers to the pain splattered coveralls which the young man is wearing. A portion of these coveralls is magnified by a transparent resin disc held by the man. Henderson was at one point preoccupied with the optical effects of resin discs, placed in various locations, with and without people, and photographed (The discs functioned as sculpture and the photographs as documentations.) Unlike its three-dimensional predecessors, however, the disc in Confetti Star serves a more significant purpose. It becomes the equivalent of a large optical lens, an extension of the eye, which draws the viewer into the image to observe its prismatic colour.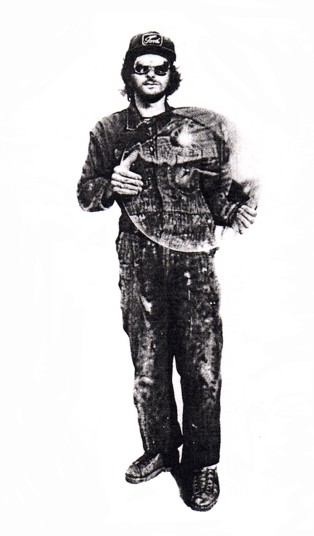 Confetti Star (1980)
air brushed acrylic on paper, 102 x 79 cm
courtesy; Frans Wynans Gallery, Vancouver.
Photograph by Jim Gorman





Reference is also made to the act of painting in these realist images. The residue of paint on the coveralls of the young man in Confetti Star is perhaps a subtle clue as to his profession. The significance of pigment in its raw form is ironically depicted.
Although the works retain their individuality as separate entities, there is a noticeable difference with respect to their varying levels of complexity. In Blue Bird the disc recurs, emphasizing the overdeveloped biceps of its subject. This perspective of the man's physique is exaggerated to the extent that it becomes a gross malformation. Together with Disco and Old Wave, Blue Bird relies on metaphorical associations and is much less enigmatic than other examples.
In the Artist the person depicted is not Henderson (the title does suggest a self-portrait) but merely the figure of a man posed holding cotton candy in one hand. This work surfaces as one of the most imaginative in the series, in spite of its apparent simplicity; the "artist,' is everyman and Henderson is commenting on the social, rather than the sacral role of art.
These small works are designed for the formal gallery context and yet they continue Henderson's concerns with objects placed in environmental and interpersonal situations. The present series also reflects a new maturity in Henderson's work. He is not simply quoting his earlier concepts and notions, but assimilation his interest in optics, materials, sites and people into coherent comments on perception.
Linda Carter
Vanguard, Vol.10, No.8, Oct. 1981, p.37