"THE CELLAR"
Page One
APRIL 1956 - FALL, 1963
Story by John Dawe
Page Two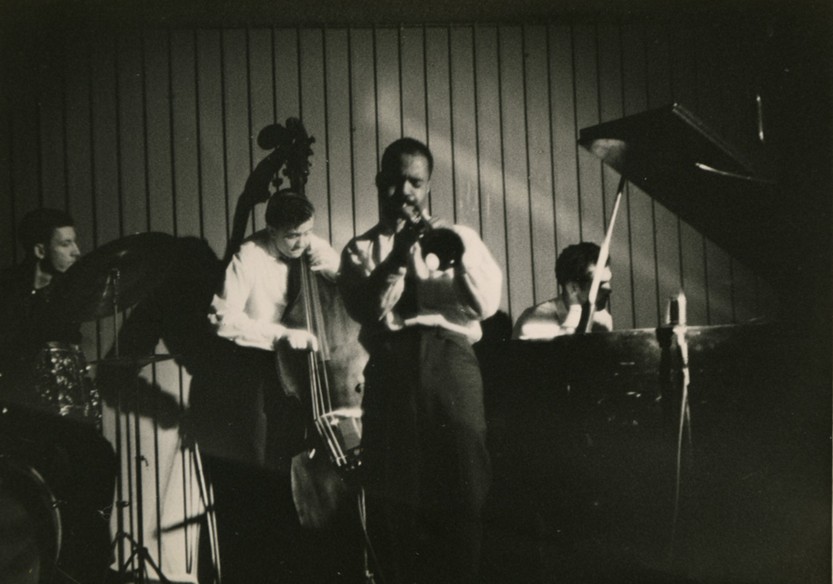 (lt-rt)
Jerry Fuller
, drums,
Freddy Scheiber
, bass;
Joe Gordon
(trumpet) and
Bob Nixon
(piano)
.
The opening
and
the following sucess of the Cellar was a unique experience for us and Vancouver jazz fans in
general.....there had been nothing
like it
before
and
it inspired others to open similar types of clubs in other parts of the
city...... such as the "Black Spot" in Dunbar
and
the "Blue Horn"
near Broadway
and
Alma....followed by others later.....
not to forget Howie Bateman's "Inquisition". For many of us younger musicians with little previous
jazz
experience, it
was a total gas to be able to sit back a listen
and
get to know all these great out of town players "doing their thing"
it was better than
any
music school
and
a hell of a lot more fun.
The Cellar had no liquor licence
and
was known as a "bottle club". What we accomplished was phenomenal
and
it was all done on a "shoe-string" budget

and
the locals guys who played there made $10 bucks a nite, so none of us were getting rich.... it was a a labour of love.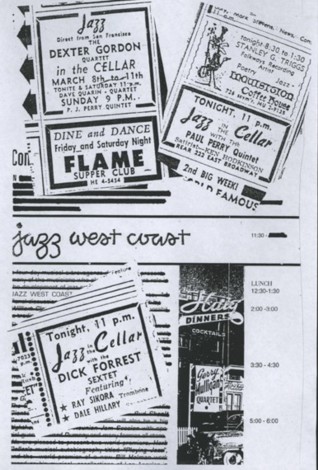 The Story


The original Cellar club was something just short of a miracle!!...... we took a bare-assed concrete basement
and
turned it
into what later became one of the most important jazz clubs on the west coast........ in time it became known as a great
place to play with jazz players as far south as
San Diego
. It began as an idea from a small nucleus of non-professional
muscians out of the Ken Hole big band
and
was created mostly to provide a place for muscians to practice, rehearse
play jazz for ourselves
and
hopefully for those who may wish to drop in to listen
and
socialize together.
Getting the place ready was no easy task
and
involved a lot of hard work
and
dedication. It was located a half block east of
Main St.
on Broadway beneath some stores on what looked like a back alley at
2514 Watson St
. The main group of
people involved in getting the doors open
and
the place up
and
running were: Ken Hole, Wally Lightbody, Bill Boyle,
Jim Kilburn, John Dawe, Jim Johnson,
Al Neil
, Tony Clitheroe, Dave Quarin, Ed Roop and Barry Cramer. The basic design
and
decor of the club was left to the very creative abilities of architect John Grinnell, artist/designer Harry Webb, Jim
Kilburn
and
Al Neil.
Art works were donated or loaned
and
hung at various spots throughout the club
and
"other" venues were tried at later dates,
such as plays performed on Sundays
and
poetry
&
jazz was also introduced. The club was registered under the "non-profit"
Societies Act
and
the main core group were the " Charter Members"
and
the others were "Social Members". In order to
make sure that all our expenses would be covered the Charter Members paid a yearly fee of about $60
and
each had their
own individual keys.......after expenses all profits were banked
and
when enough money was built up we would then
book in out of town jazz groups, mostly from L.A.
and
San Francisco.
The first opening month was Apr. /56
and
we were only renting half the basement
and
it's a bit hazy, but I think we had
about 8 or 9 tables
and
probably about 18 or 20 members
and
friends showed up
and
the music was just various guys
sitting in
and
jamming. The following weekend however was an other story....people were lined up to get in from the
bottom of the stairs
and
spilling out into the parking area. We decided then to take a chance
and
rent the whole
basement at the exhorbitant fee of ninety bucks a month!
This involved more work.......a larger bandstand, more decorating
and
lighting
and
new washrooms etc,
and
the place began
to look very groovy.....this became the Cellar most people remember
and
news of the place was spread mostly by word
of mouth
and
the UBC jazz society .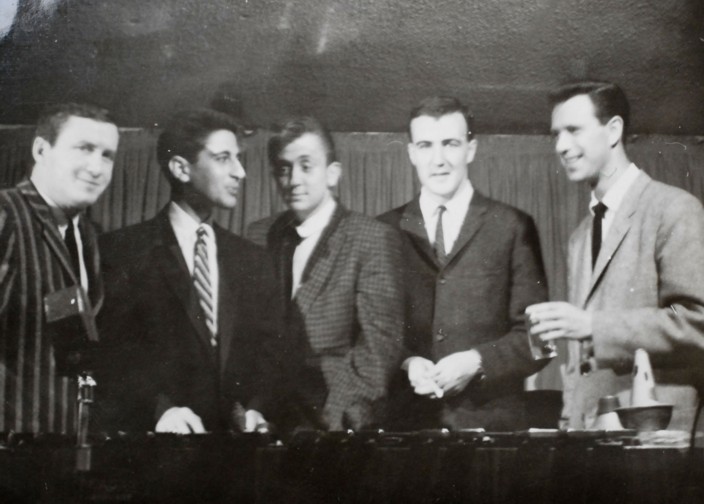 (lt-rt)
Al Neil
(piano),
Bob Frogge
(vibraphone),
Freddy Schreiber
(bass),
Bill Boyle
(drums),
John Dawe
(trumpet)
About this time Al Neil
and
Jim Kilburn formed their own groups. Al's was: Jim Johnson, tenor....John Dawe, trumpet....
Tony Clitheroe, bass....
and
Bill Boyle, drms....... this group played the Cellar until about 1961. Jim Kilburn's group. varied
over the years, but was mainly.... Jim Johnson or Bill Holmes, tenor sax.....Tony. Clitheroe, bass....Bill Boyle or
Chuck Logan,drums
and
at times Harvey Adams, bassoon
and
Dorene Williams, jazz vocals. A little later came the
Bob Frogge quintet with Bob Miller or Freddy Schrieber, bass. These 3 groups sort of became the regular "house bands"
for the Cellar
and
Dave Quarin also brought in an occasional group.
The food menu was a gourmet's delight (haha)..... hot dogs, saranwrapped sandwiches, coffee
and
pizza
and
NO table
service...... hell, we were serving jazz, not food!! The doors usually opened about 10:30
and
the bands started anytime
after that......usually about 11pm
and
finished about 2 am.... sometimes followed by a late nite session, depending on who
might fall by after their gigs.....there was really no official closing hour
and
we often hung around 'till sunup.
The first really exciting out of town group to be booked in was the "Jazz Messiahs", who had been doing a gig in
Seattle
and

had one free nite before returning to L A ....... this group knocked us all on our asses.....wow!!..... Don Cherry, trumpet...
George Newman, alto
and
the great Billy Higgins, drums..... no one can recall the bass or piano player's names.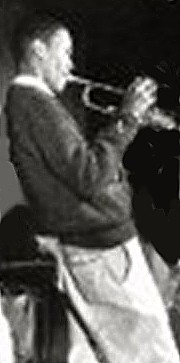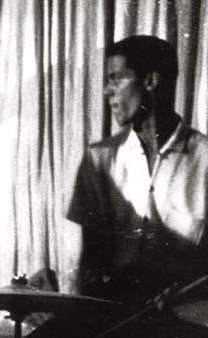 (lt.)
Don Cherry
(rt.)
Billy Higgins
(Nov. 1957)
About the end of /56 a new guy appeared in the Cellar.....BOB FROGGE!!.....trying to describe him is impossible....
when they made Bobby they threw away the mold. He was the funniest, grooviest
and
most laid-back cat you'd ever
meet.......
and
he was totally insane ( in a very groovy way).... I don't know what planet he was from, but it wasn't in this
galaxy, or the next ....Bob soon put together a quintet with himself on vibes, Al Neil, piano, Freddy Schrieber or
Bob Miller, bass, myself trumpet
and
Bill Boyle, drums ......this group. stayed together until about 1960, when Bob's
lifestyle finally caught up with him
and
he had to return to his home town of
Kansas City
.
The Paul Bley Quartet from L A did an interesting 4 or 5 day gig....... the first 2 days without a bass, as Charlie Haden
had a serious drug problem
and
was in no shape to play..... a very young Dave Pike was on vibes...... it was a super group.
The next out of towners were the newly formed "MASTER-SOUNDS" from San Francisco with MONK, BUDDY
and
WES MONTGOMERY, filled out with Richie Crabtree piano
and
Benny Barth, drums, a good group but rather a poor
man's copy of the MJQ.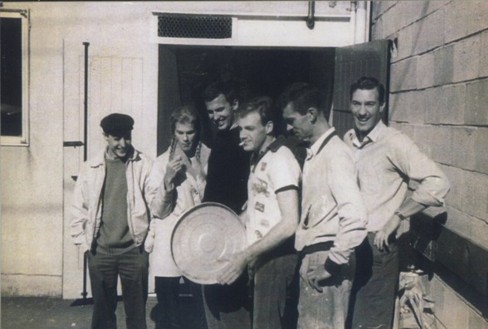 Dave Pike, Carla Bley, Paul Bley, Don Franks, Dave Quarin,

Ken Hole in the parking area at the entrance to the Cellar

In early 1957 a real surprise to us was the booking in of a then unknown (to us) alto player from L.A. named SONNY
REDD. Besides being an excellent jazz player, he introduced us to a great (new) tune..."GREEN DOLPHIN STREET"
.....Miles'

recording of this tune had not yet been released

and

this tune really knocked us out. Sonny laid the "changes"
to this tune

on us

and

naturally we all started playing it.....as I remember it, he was backed up by locals Tony Clitheroe,
bass....

Bill Boyle, drums......

and

Fred Massey, piano. (Sonny was from Detroit, via New York and last played Vancouver
in 1974 at

Lucy's Jazz Workshop with drummer Roy Brooks -

Gavin Walker

)




The weekend of May 16 /57 brought in the" infamous"

L.A.

alto player ART PEPPER...he did 2 nites with the Al Neil trio


and

the 3rd nite with Chris Gage...... the last nite ART was 40 mins. late in showing, making everyone pretty nervous that he

wasn't going to show....... finally he burst thru the door, sweating profusely

and

obviously VERY stoned...... ha ha, he

played his ass off !! By the summer of /57 Don Cherry's "MESSIAH'S" were back in for 3 days with the VERY

great JAMES CLAY on tenor, Don Payne, bass

and

Billy Higgins, drums.......... we were all somewhat in awe of this

group.... at this time they sounded much like a combination of MILES' group

and

the "Jazz Messengers"....... wow! again!

.....on the last day we all got together

and

went speedboating out to

Horseshoe Bay

and

Bowen Island

....fantastic weekend!!


The next really bigtime player booked in was the marvellous

L.A.

bebop pianist LOU LEVY.......a big press party was thrown
at the club beforehand for publicity

and

to push Lou's new album.....also to help pay his expenses. It was arranged for Lou to
do a solo spot on a local TV show called "

Club Date

"

and

the FRED MASSEY quintet also appeared....Fred's group was


Fred Masseys group had PAUL PERRY tenor, JOHN DAWE, trpt., TONY CLITHEROE bass & BILL BOYLE , drums

.
On the Cellar gig Lou used Paul Ruhland, bass,

and

Ted Owen, drums. Next to appear was the great HAROLD LAND group
for 3 days. Harold's guys ate most of their meals at a "greasy-spoon" cafe on Kingsway called (haha) 'UNCLE TOM'S
CABIN".... those guys loved that place

and

went out of their way to "dine" there !!


Harold Land
at the Cellar, 1960
(with
Joe Peters
, drums and
Clarence Jones
, bass)
In the fall of /57 DON CHERRY was back again......this time with a very startling group....... this was the first time
that these guys had worked together as a group publicly
and
ORNETTE COLEMAN was more than a bit of
a shocker!........ they did a lot of Ornette's tunes, which at that time were still fairly conventional, but Ornette's
solo style was extremely "unorthodox"....... you either dug them or you hated them, but after the 3rd nite most
of us were starting to dig what they were putting down.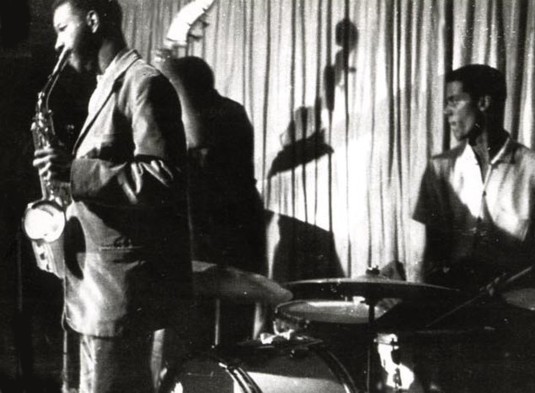 Ornette Coleman, Ben Tucker (hidden)
and
Billy Higgins
Around Jan./58 a management change took place........Wally and Ken moved off to follow other pursuits
and
they
opened a very groovy jazz club called "THE SCENE" in Victoria........at times some of us would trek over there
to do a weekend.
Alto saxist Dave Quarin took over as the fulltime paid manager and guitarist Jim Kilburn stepped in
as the new president of the club.
The club was now starting to get onto a high roll
and
a steady stream of excellent players were coming in .......some
as singles working with local rhythm sections ........guys such as HOWARD ROBERTS, who surprised the hell out
of all of us........he was a stone-assed bebopper
and
the whole weekend just cooked..... he was backed by Tony
Clitheroe bass,
and
Bill Boyle drums. ...Howard's wife also sat in on drums occasionally.
Tenor player HERMAN GREEN brought an excellent bebop group in from San Francisco with an marvellous trumpet
player named Richard "Notes" Williams
and
bassist LARRY LEWIS.......the group was filled out with locals FRED
MASSEY piano
and
Bill Boyle........they would do "CHEROKEE" every nite at an outrageous tempo
and
Boyle would
come off the stand wringing in sweat
and
cursing !!





Dave Quarin


Pl;aying art the cellar, August, 1958


"makin' some steam" with the Al Neil Group, late /59
lt-rt.:

Jerry Fuller,

(drums

, John Dawe

(trumpet)

, Jim Johnson

(tenor sax)
unseen is

Bob Miller

(bass) and, of course, the maestro,

Al

Neil

(piano)
The club by this time had started to attract a large group of very colorful "regulars".......some real characters like LARRY
GOON
and
"DAN-DAN" ........Danny was an ex-airline pilot from Peru ........ between the two of them
their alcohol consumption could have fuelled a 747!
DON FRANCKS
and
FRANK LEWIS had become regulars at the club since it's inception.........Francks was an
extremely talented up and coming actor
and
Frank Lewis a very talented modern artist. Frank donated a fantastic floor
to ceiling self portrait that hung at the bottom of the entrance stairs......... both these guys pulled off some outrageous
stunts during some of their Cellar visits.
There was a small group of chicks who were always hangin' out at the club
and
helping to make life a helluva lot more
pleasant for us musicians......Carol Hunter...Vivian Cook...Doreen Williams...Lois Scott...Rae Sawyer and others......
Doreen worked the door for years
and
was a good jazz singer to boot and Viv Cook worked the kitchen for a while.
One nite while working with Al Neil's group, Al peered out over the crowd, turned back to us, laughed and said,
"hey man, where are the bebop girls tonite ?"....... ha ha, after that we usually referred to the chicks as "the bebop girls".
Some of the other regulars were Sam Toren... Arnie Chycoski, Don Cumming, Ray Sikora, Birgit, Stan Perry, Bob
Streeter...a very young Gavin
Walker
and
a very super couple of great people, artists Lloyd
and
Mitzi Gibbs.



Bassist

Larry Lewis,
bassist with the

Herman Green Quintet

.




Doreen Williams


singing with

Al Neil

(bottom left) and his trio

Another pretty colorful cat was trumpet player Dick Forrest...... he came to town with Louis Bellson's big band....... he
came for 1 week
and
stayed for 2 years!!!........ at that time Dick's whole life swung the whole gamut between the hilarious
and
the absurd.......I think I spent too much time hangin' out with Dick! Word of the Cellar was getting to be known
and

talked about in other cities
and
in late July /58 a great young alto player arrived on the
Vancouver
scene......Dale Hillary.
Dale already had quite a bit of playing experience...... he had just done time at the
Lennox
School
of Music
and
had already
sat in with some bigtime players in NYC. He was a solid ball of nervous energy
and
he NEVER stopped talking, ha ha.
I did a weekend with him at the club and we played an original jazz suite he had just written..... even that early on he was
a pretty good writer
and
over the next few years turned out some really good jazz originals..........for the next few
years. Dale made Vancouver
and
San Francisco his home bases.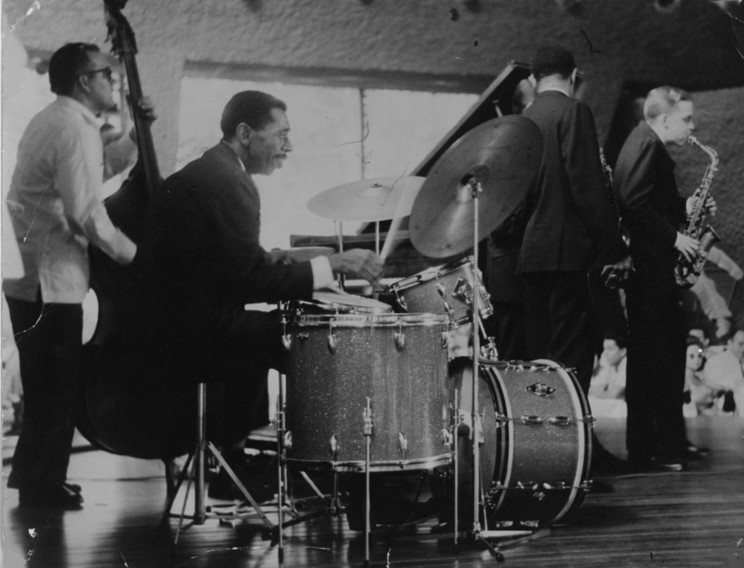 Dale Hillary
on alto sax with
Philly Joe Jones
in Cuba
(
Bill Barron
, tenor sax,
Mike Downs
, trumpet)
Around the summer of /58 a new phenomenom had surfaced.......the "BEAT GENERATION".......... it had started
in
San
Francisco
and had now moved northward. It was a good thing for jazz clubs like the Cellar..... the college kids
and
other psuedo hipsters were into it
and
it brought a whole new group of people into the club........ things like poetry
and
jazz became the latest "scene". Most of us thought it was pretty "jive-assed" crap, but what the hell.....