GEOMETRIC EXPRESSIONISM
April 18-May 25, 1991
Chris Blades / Max Banbury / Ron Falcioni / Jas. W. Felter
Leo Labelle / Frank Lambert / Gordon Payne / Gregg Simpson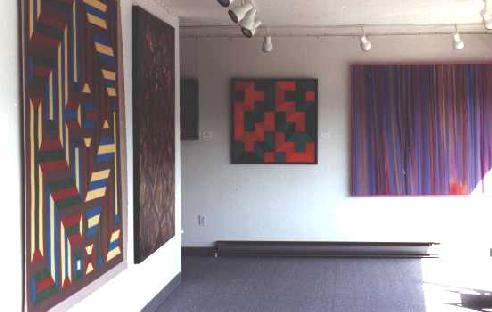 Works by Jas W. Felter and Gregg Simpson
Geometric Expressionism celebrates the intuitive and personal aspects of works in the tradition of
non-objective, hard-edge geometric painting. Since the public furore over the National Gallery's purchase of Barnett Newman's
Voice of Fire in 1990, formalist art has come under attack, perhaps because its appreciation requires an awareness of the roots of
abstraction. The exhibition at the Gallery Alpha confronts these questions with a selection of work by artists who draw upon a variety
of sources from indigenous art and pre-historic designs to futuristic patternings and illusionism.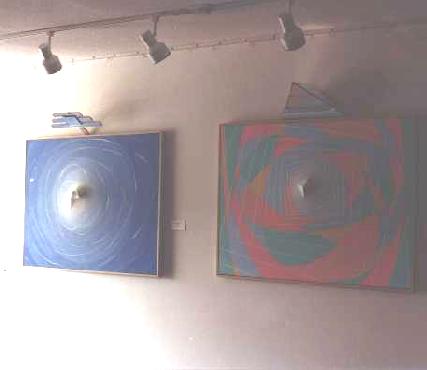 Mixed media canvases by
Frank Lambert
The roots of geometric expressionism (a term coined by contributing artist Jas. Felter) reach back to early abstractionists such as
Wassily Kandinsky and Frank Kupka who pioneered improvisation with pure colours and shapes. Both artists also drew on their
metaphysical knowledge and became transitional figures from Symbolism to abstraction, painters who could provide a
theoretical and philosophic structure to their abstractions.

Works by Gordon Payne-lt.; Max Banbury-rt.
In Geometric Expressionism, the link with the metaphysical is reflected in each artist's personal
interpretation of the traditions of
geometric abstraction. As a result, their work provides a more
animated, less cerebral alternative to the minimalism often associated
with geometric art.
---