RAINFORESTS OF THE MIND
June 26 to July 27, 1991
Pnina Granirer · Don Jarvis · Patricia Johnston · Gregg Simpson
Max Banbury · Audrey Marsden · Richard Turner · Monica Shelton Gordon Payne

Jim Felter · Miles Hunter · Ted Kingan · Pat Armstrong · Ross Munro
Fourteen artists working in acrylic, oil, watercolour, and mixed media presented an exhibition dedicated as a tribute to the west
coast rainforest. At a time in our history when the future of the world's rainforests hang in the balance, we need to constantly remind
ourselves of the inspiration these environments give to us.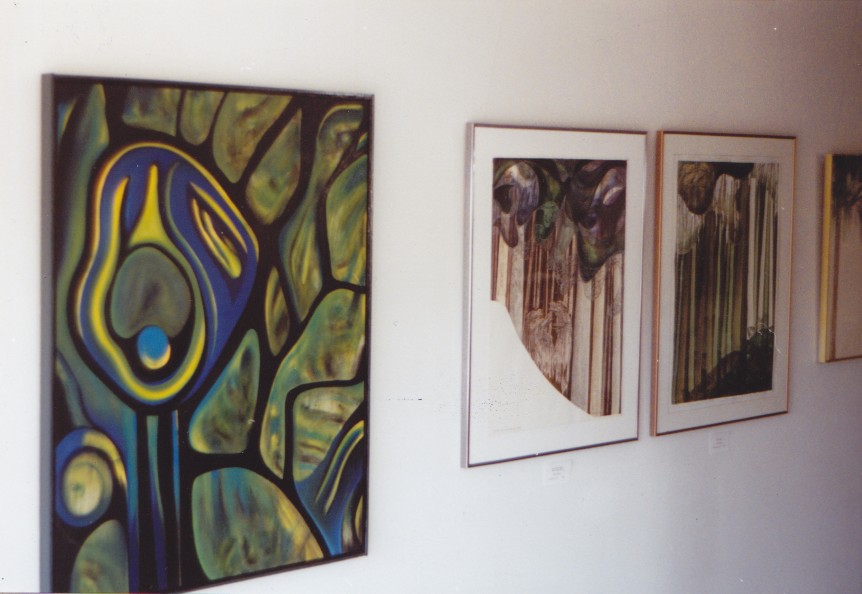 Works by: Gregg Simpson, lt. and Pnina Granirer, rt.
Rainforests of the Mind presents artists who express an inner process that parallels the growth and turmoil

of the forest. They evoke a variety of
moods or textures from this abundance of nature, rather than simply

depicting it. As such, these artists follow in the tradition of Emily Carr and her
native predecessors by

transforming elements of. this landscape into a simulacra of nature.






Fine technique and a sense of clarity characterize the rainforest evocations of artists Pnina Granirer and Patricia Johnston, while Don Jarvis
manipulates colour and brushwork to present his vaporous, calligraphic vistas and personal rainforest abstractions.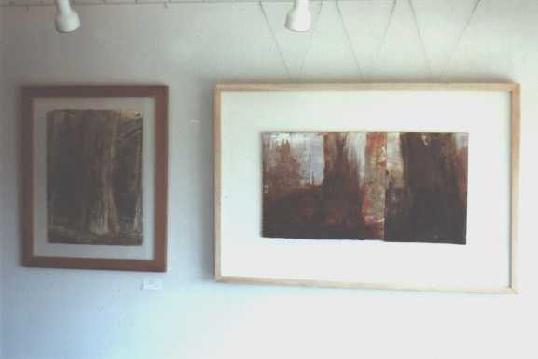 Two mixed media works by Miles Hunter
The abstract, organic motifs of Max Banbury, Monica Shelton and Gregg Simpson are in themselves a reminder of how Nature's microcosm
resembles the shapes and patterns of the external world. This approach is also reflected in the works by Richard Turner and Ted Kingan which
develop images conjured from an inner world of complex overlays or snaking tendrils that function as cryptic symbols of the rainforest. The
landscape itself becomes a direct focus in the abstracted paysages of Audrey Marsden, Ross Munro, and Pat Armstrong, the scratched and
burned wood surfaces of Miles Hunter, and the geometric "trees" of Jas. W. Felter.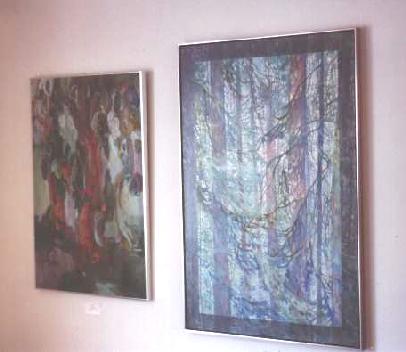 Works by Audrey Marsden, lt., and Pat Johnston, rt.
The artists in Rainforests of the Mind celebrate the lush, convulsive landscape of the west coast rainforest while voicing a collective response to the
threat to our forest environment.