FERTILITY RITES September, 1991
Thomas Anfield, Sonja Bunes, Carole Driver, Carol Dukowski, Ron Falcioni,
Pnina Granirer, Miles Hunter, Leo Labelle, Frank Lambert ,
Joy Zemel Long, Marta Pan, Gregg Simpson
Gallery Alpha's fall group exhibition brought together twelve Vancouver artists to explore the shapes and emotions surrounding the
very foundation of our being, the creation and growth of life itself. Curator/artist, Gregg Simpson, who also exhibited his work, stated:
The theme of Fertility Rites evolved from my preoccupation with the sensuous lines and patterns generated from a nucleus, or embryonic shape,
in some of my abstract work. I was interested to see if the work of other artists also reflected an interest in depicting the life force.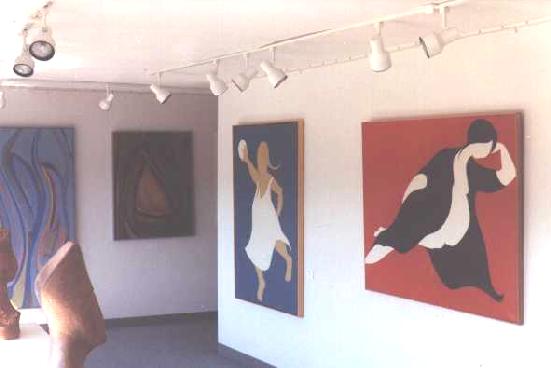 Works by Gregg Simpson, Joy Zemel Long and Carole Driver
Simpson found parallels for his theme in the work of eleven other west coast artists. For example,
Miles Hunter's seed/pod assemblage paintings,
the cellular enclaves of Ron Falcioni's work, and
the invocation of pre-embryonic life in the paintings of Frank Lambert and Leo Labelle, all explore
the theme of Fertility Rites from an almost cellular perspective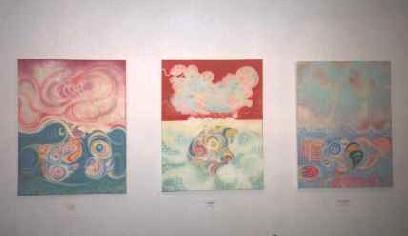 above: acrylic paintings by Ron Falcioni



above: mixed media work and sculpture by Sonja Bunes
The sculptural clefts, orifices, and wombs of Sonja Bunes, Marta Pan and Carol Dukowski reflect a woman's perspective whith allegories of pregnancy
and birth presented in the figurative works of Joy Zemel Long and Thomas Anfield. The spiritual overtones associated with the theme are reflected by
the fertility goddesses of Pnina Granirer's Venus and Kundalini friezes and the ancient dietics invoked by Carole Driver's enigmatic sculptures.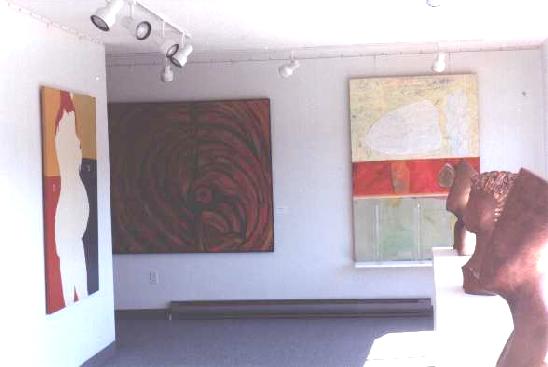 Works by Joy Zemel Long, Gregg Simpson, Miles Hunter and Carole Driver