FANTASTIC VISIONS
Francis Thenard, Patricia Van Oyen, Ladislav Guderna, Gordon Payne,
Marilyn Mylrea, Al Neil, Gregg Simpson, Martin Guderna, Ed Varney, Ted Kingan.
Oct. 31- Nov. 30, 1991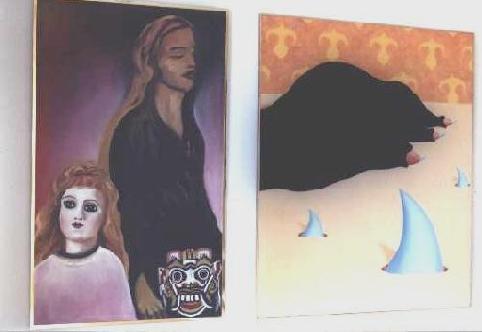 Works by Marilyn Mylrea - lt.; Gregg Simpson - rt.

The Halloween opening was deliberately chosen for this exhibition which featured a number of artists drawing from
their inner sense of mystery put to flight the notion that an art which evolved from the

magical

is no longer valid.



Al Neil: Portrait of Antonin Artaud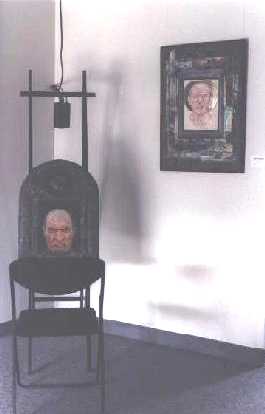 Installation by
Gordon Payne
The worlds of mythology, Symbolism, the Fantastic, and Surrealism mixed together at this most significant time of the pagan calendar.
Patricia Van Oyen and Marilyn Mylrea produced works which invlolved dream-like mythological imagery with overtones of ceremonial
magic and the erotic.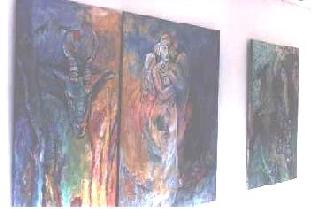 Works by Patricia Van Oyen


French-born artist, Francis Thenard exhibited his red landscapes which mingle a dadaist sensibility with an intimate knowledge of
the occult and the Fantastic. His work was complemented by that of English-born miniaturist, Ted Kingan, and that of Ladislav
and Martin Guderna, originally from The Slovak Republic, all who have been central to the neo-surrealist groups in Vancouver in the
1970's and 80's, and continued to publish their magazine Scarabeus until the late 1990's..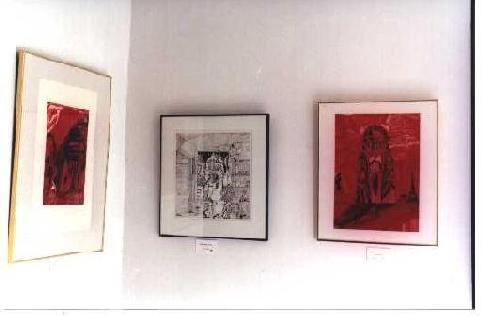 Works by
Francis Thenard
West Coast veterans, Al Neil, Gordon Payne, Ed Varney and Gregg Simpson exhibited their idiosyncratic works which freely mix metaphors
from Pop and Dada, Surrealism and neo-Surrealism.


Paintings by Gregg Simpson: (lt. Persian Gulf, oil on canvas, 1972
and (rt.) Wanderers,
acrylic on canvas, 1973